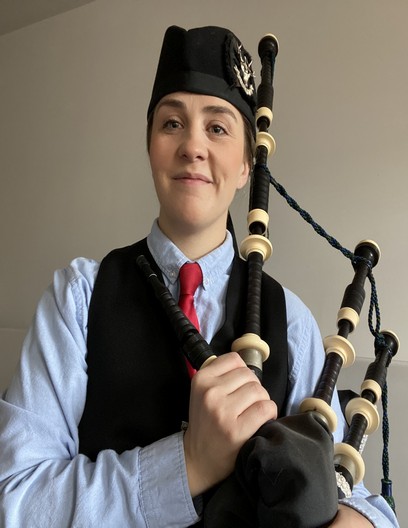 Jessica Bain is currently a Medical Laboratory Technologist in Halifax, Nova Scotia. She began piping at the age of 9. Her first instructor was her grandfather, Jim Bain. She joined the Dartmouth and District Pipe Band soon after beginning lessons. Jessica is currently the pipe major of the grade 5 band in the Dartmouth and District organization. She is also a member of the 78th Highlanders Halifax Citadel pipe band and receives tuition from Alex Gandy. Jessica had a successful solo season this year, winning multiple prizes in the Halifax Citadel mini gathering contests, as well as winning piper of the day at the Great Lakes Virtual contest. Jessica also placed 2nd overall at this year's Nicol-Brown and is honoured to be invited to the 2021 George Sherriff Memorial.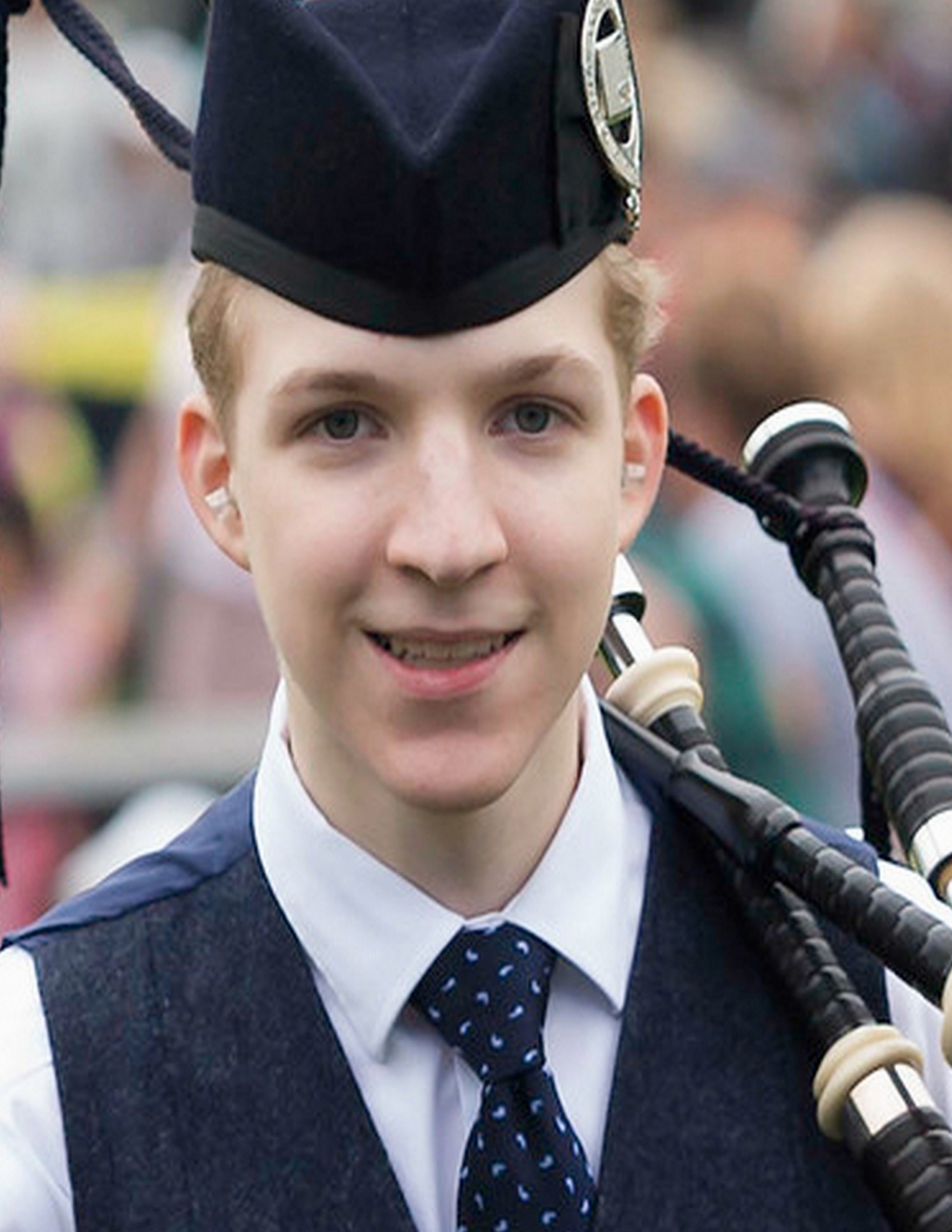 Callum Bevan turned 17 years old in July. He is enrolled in the AP program at Yale Secondary School in Abbotsford, British Columbia. He began piping at the age of 7 under the tutelage of his parents, Alan and Bonnie Bevan. Callum was a member of the Robert Malcolm Memorial Pipe Band for several years, competing at the World Pipe Band Championships with the band in 2017. In September 2019, he was invited to join the Simon Fraser University Pipe Band. Playing with the band in concert in February 2020 -- a week before the COVID shutdown -- was a big career highlight, but Callum is really looking forward to taking the field with the band this season. Callum won the BC Pipers' Association Grand Aggregate in every grade prior to moving to Grade 1. He won the piobaireachd, MSR and Jig events at the BC Pipers Annual Gathering in 2021, and was a finalist in the MacGregor Memorial at the Argyllshire Gathering in August 2021. Callum has won the tune writing competition at Piping Hot Summer Drummer and has placed second (to his brother, Alistair) twice. Callum was the second runner up in this year's Nicol-Brown competition, placing in all three events, including a first in the piobaireachd event. Callum is very excited to have been invited to this year's George Sherriff Invitational Competition.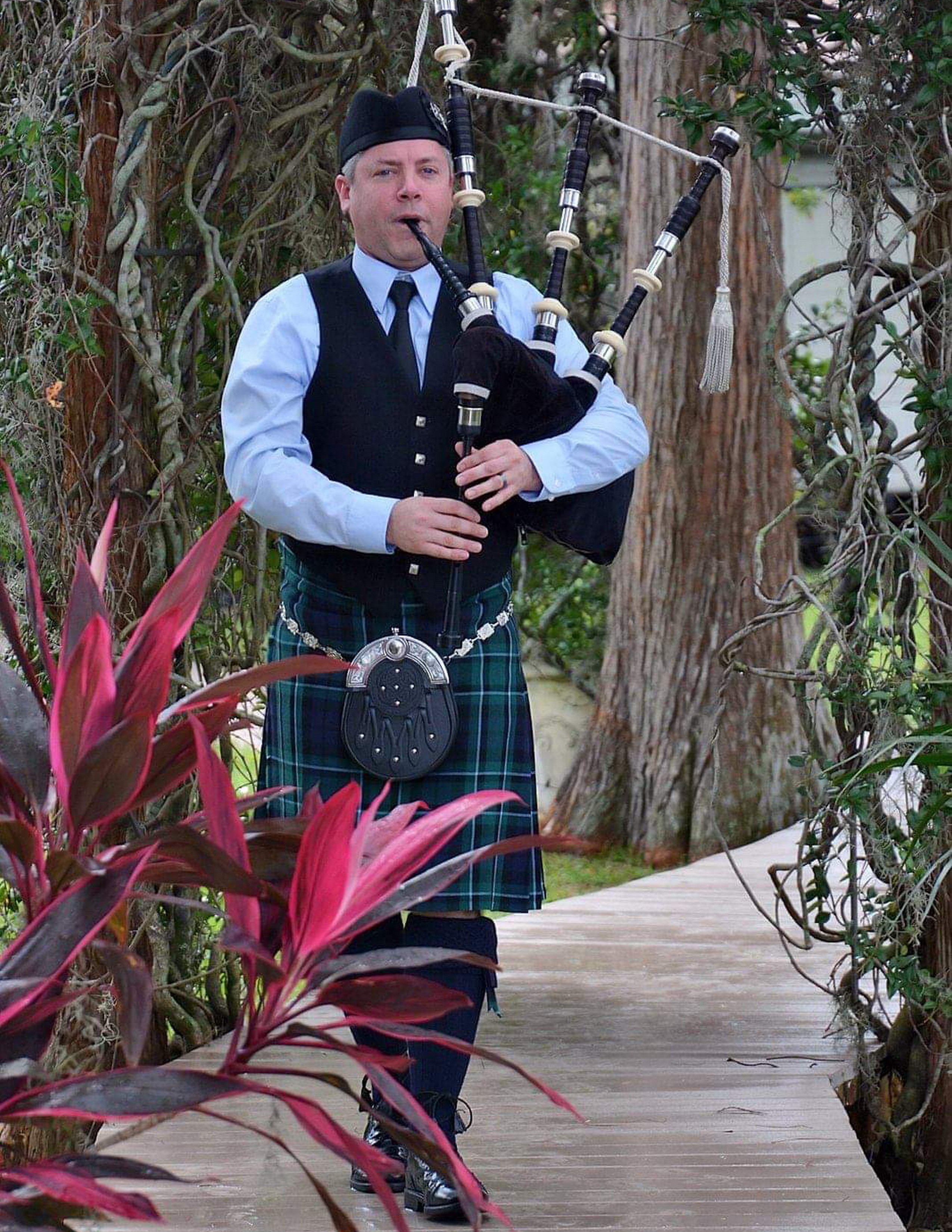 Sean Buchta started piping in 1994 with the Siol Na h'Eireann Pipe Band of Selden, NY. It was here that he received his first piping lessons from Patricia O'Shaughnessy. Through her instruction and example Sean developed a solid technique which has been foundational to his piping career. In 1995 he joined the Róisín Dubh Pipe Band of East Islip, NY where he played for 19 years under PM Bill LePage. It was in these years he was given the opportunity to instruct the competition band, eventually leading them to the grade 3 level. In 2014 he moved to Florida where he joined the City of Dunedin Pipe Band, culminating with a win in grade 2 at the 2018 World Pipe Band Championships. He currently receives instruction from Scot Walker whose influence has enabled him to develop as a piobaireached player. In addition, Sean has also traveled to Brittany, France to compete as a member of Bagad Bro Kemperle in the Grade 1 bagad championships at Brest. This experience was made possible through the influence of Yoann Le Goff, who helped introduce Sean to the amazing world of Breton piping.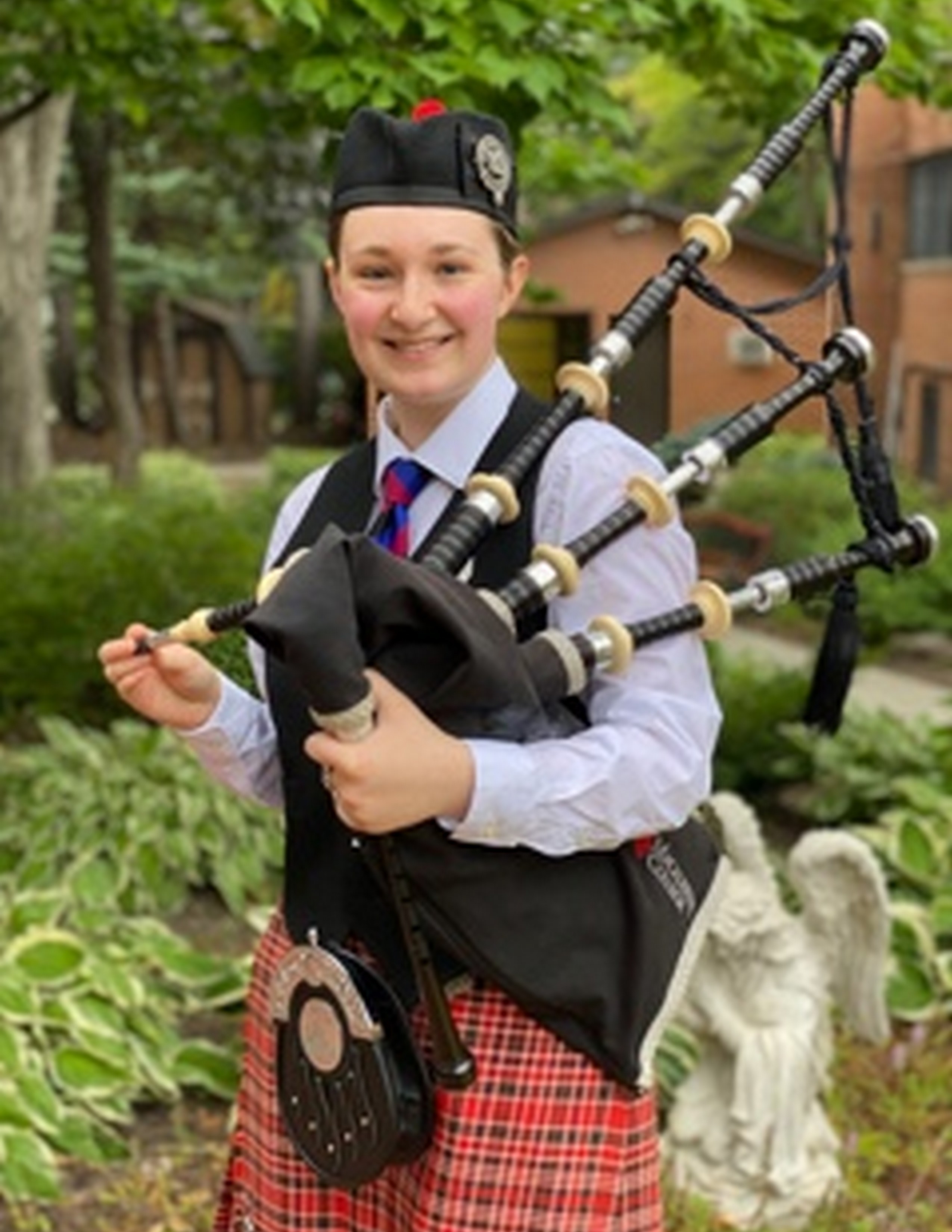 Zippa Curiskis is 18 years old and is a freshman at Macalester College in Saint Paul, Minnesota. She hopes to study geography and music but is keeping an open mind about her future interests. Zippa started piping at the age of ten, learning from Michael Breidenbach, Director of Piping at Macalester, and Andrew Lewis. She currently receives tuition from Donald F. Lindsay and Murray Henderson. She has been a member of the Macalester College Pipe Band for the past five years, and is looking forward to another four great years with the band. Zippa also enjoys playing the Scottish smallpipes, piano, and low D Irish whistle. She is honored to have been given the opportunity to compete in this event.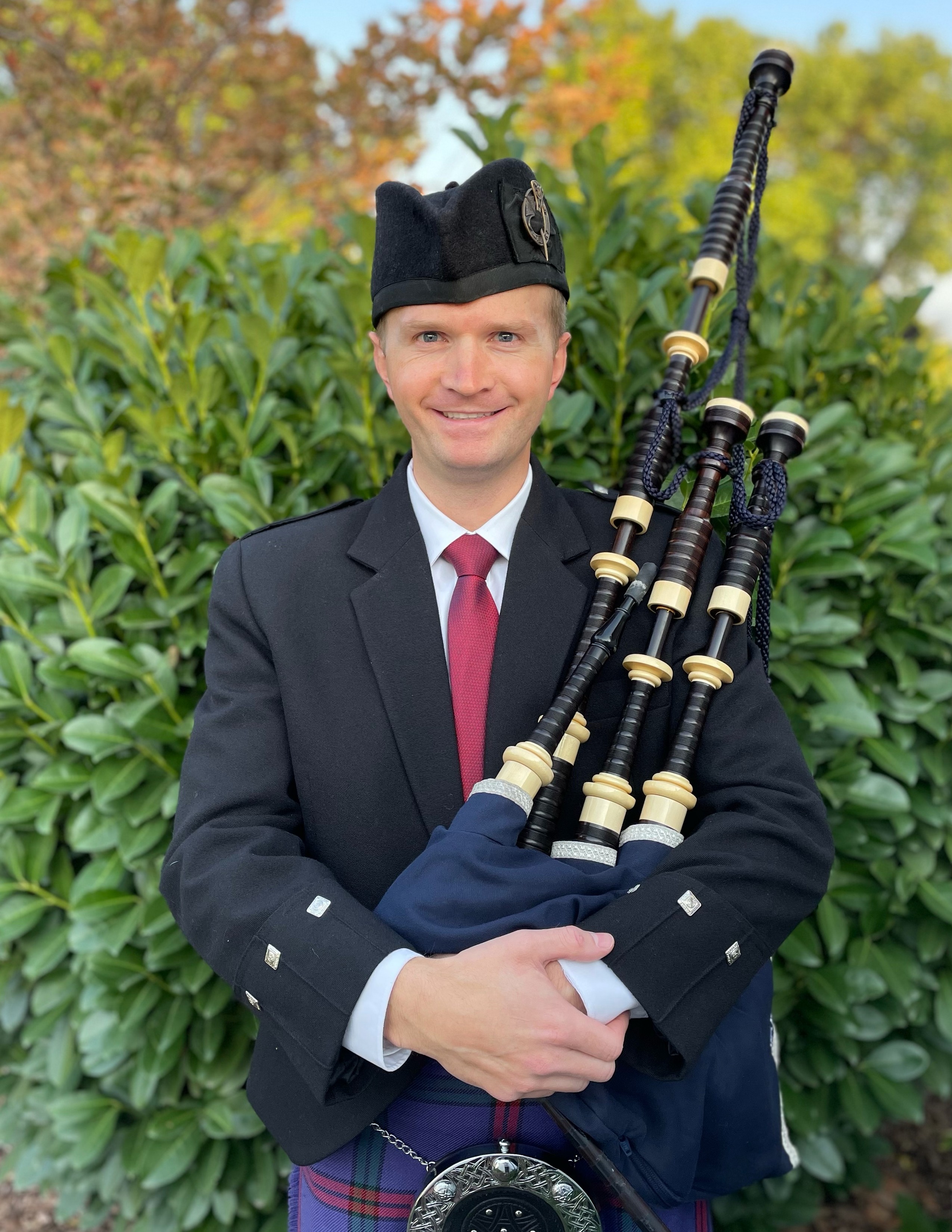 Trevor DeMass began his piping instruction at age 11 with Dennis McMaster, who was then the Pipe Major of the Salt Lake Scots Pipe Band. He joined the band in 2001 and has been a playing member ever since. Trevor is the current Pipe Major of the Grade 4 and an active instructor within the organization. In 2017, he graduated from the University of Utah College of Pharmacy and works as a community pharmacist in Salt Lake City. Over the last few years, he has been fortunate to receive tuition from Jack Lee. Throughout the pandemic and especially this year, Trevor has competed regularly in online contests around the world and received multiples prizes within WUSPBA, BCPA, The CLASP, and the World Online Piping & Drumming Championships. Most recently, Trevor placed 2nd in piobaireachd and 5th overall at the 2021 Nicol-Brown Invitational. He is deeply honored and grateful to be invited to the 2021 George Sherriff and wishes to thank his family for their love and support.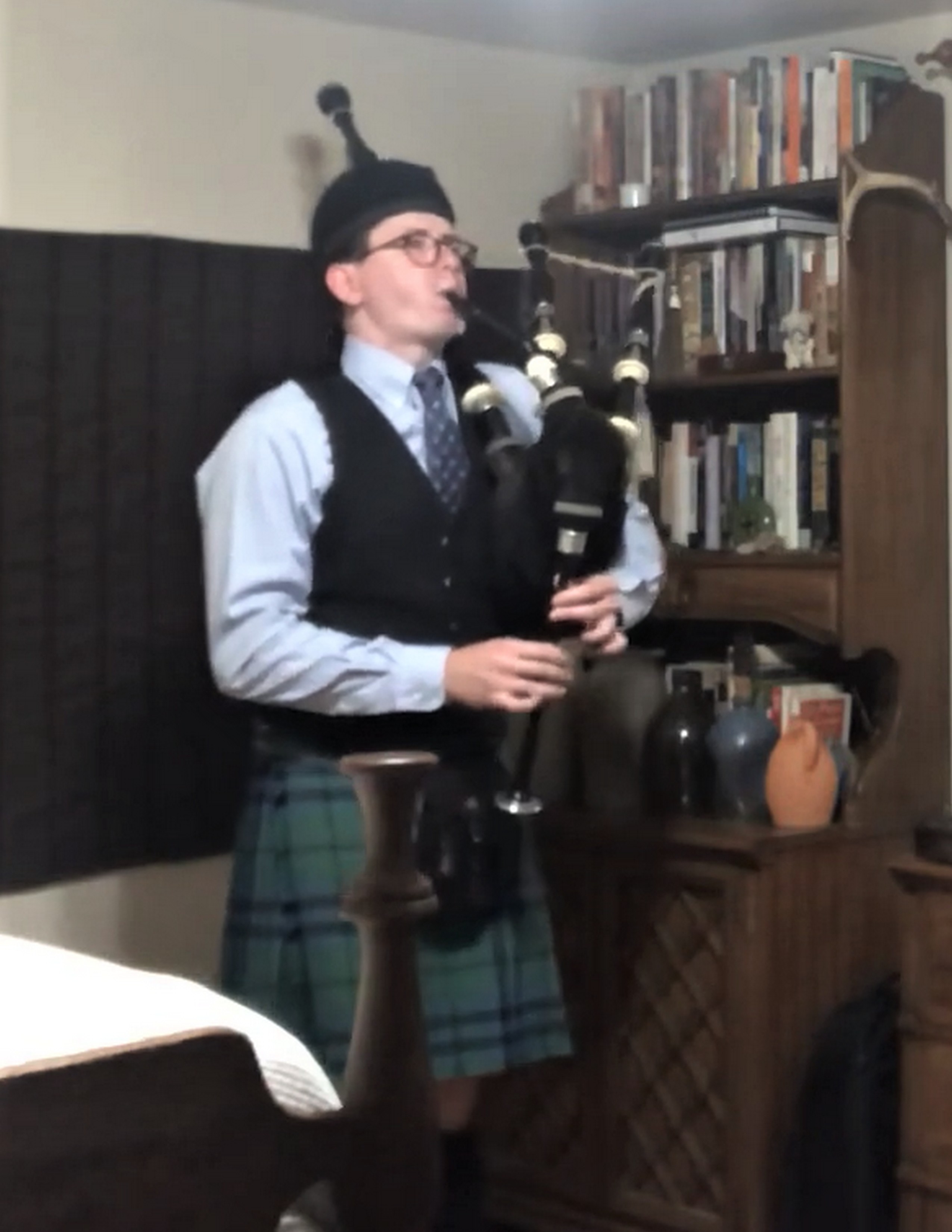 Stuart Marshall teaches history at the University of North Carolina at Greensboro while working on his Ph.D. He is honored to be invited to the Sherriff again. Stuart's recent successes include being the overall winner of the 2020 and 2021 Nicol-Brown Invitational. This year, he was overall winner in the CLASP World Solo Amateur Piping Competition at Piping Live!, overall winner and Best Carolinas Piper at the Grandfather Mountain Highland Games, and was also in the prize list at events including the CLASP Virtual Highland Games and the Piobaireachd Society's Archie Kenneth Quaich. Stuart developed his piping while playing with the North Carolina State University Pipes and Drums and then the St. Andrews University Pipe Band while attending SAU. He received instruction from John Sprague and Bill Caudill and now learns from Ed Krintz.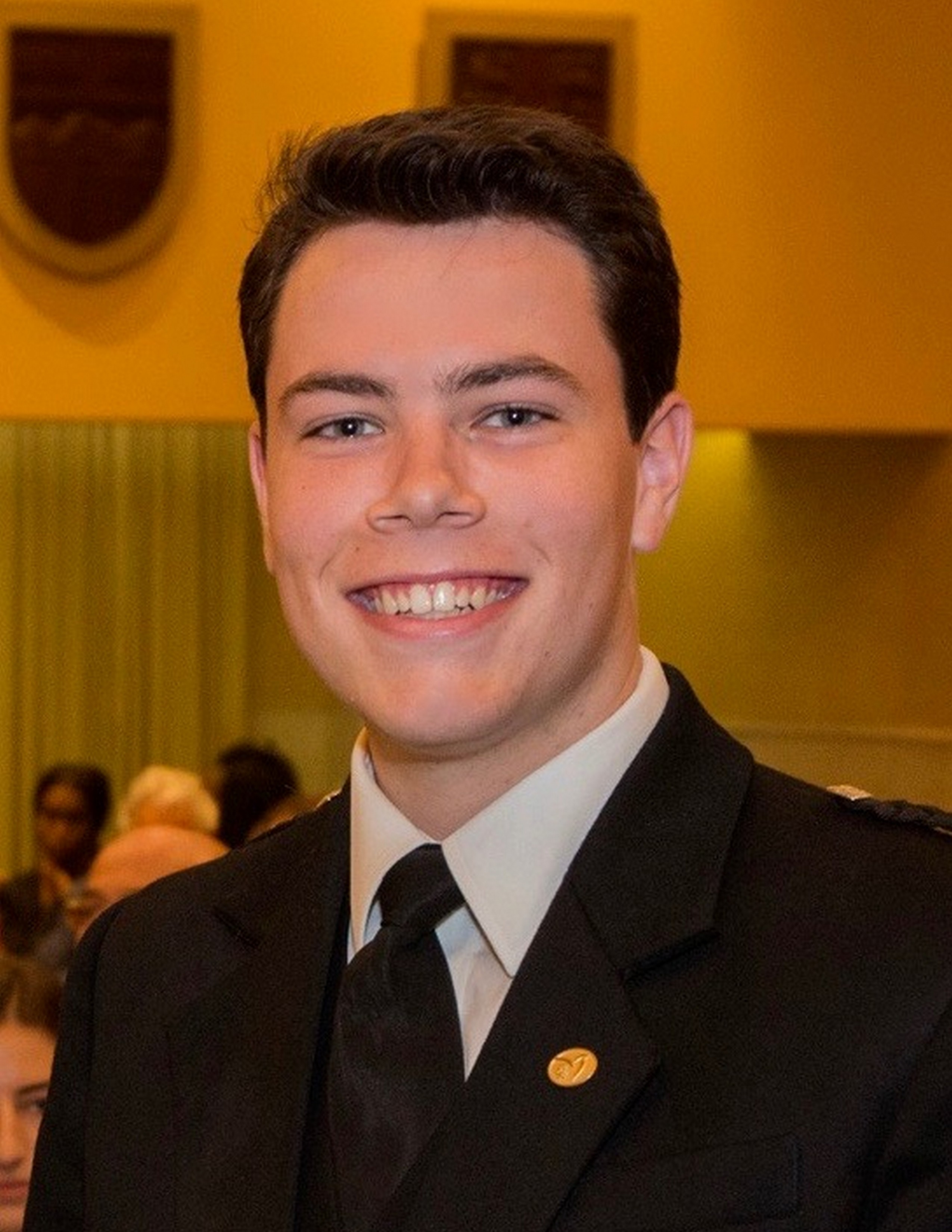 Mark McClennan was born and raised in Guelph Ontario, Mark began piping in 2010 when he joined the local Air Cadet Pipe Band. In 2011, Mark joined the Guelph Pipe Band where he continues to be an active member today. Mark began his piping tuition with Tyler Bridge and moved up the ranks quickly from grade five to the top level of grade one. He currently sees Bob Worrall for Piobaireachd and light music tuition.
In the fall of 2016, Mark placed 1st in Piobaireachd at the Balmoral Classic Solo Piping Championship in Pittsburgh. Mark also competes at the Toronto Knockout Piping Competition series and has received the John Wilson Memorial Piping Award, the Pipe Major Archie Dewar Memorial Piping Award, and the 6/8 March Geoff Neigh Piping Award. Mark received invitations to the Nicol Brown Invitational in 2017, and the George Sherriff Invitational in 2017 and 2018.
Mark has graduated the Royal Canadian Air Cadet Program where he earned his glider pilots license and was Pipe Major of the Air Cadet Pipe Band. Mark also earned the Gold Level Duke of Edinburgh Award which is an international program designed to challenge and empower young people with focus on skill development, community service, physical fitness, and outdoor adventure. He was presented the award by Prince Harry at the Royal York Hotel in Toronto Canada. When Mark's not piping, he is pursuing a bachelor's degree in Mechanical Engineering at the University of Guelph.
Mark teaches bagpipes and enjoys helping his students develop a passion for pipe music. He is very grateful for the continued support from his family, friends, and piping mentors in his piping aspirations.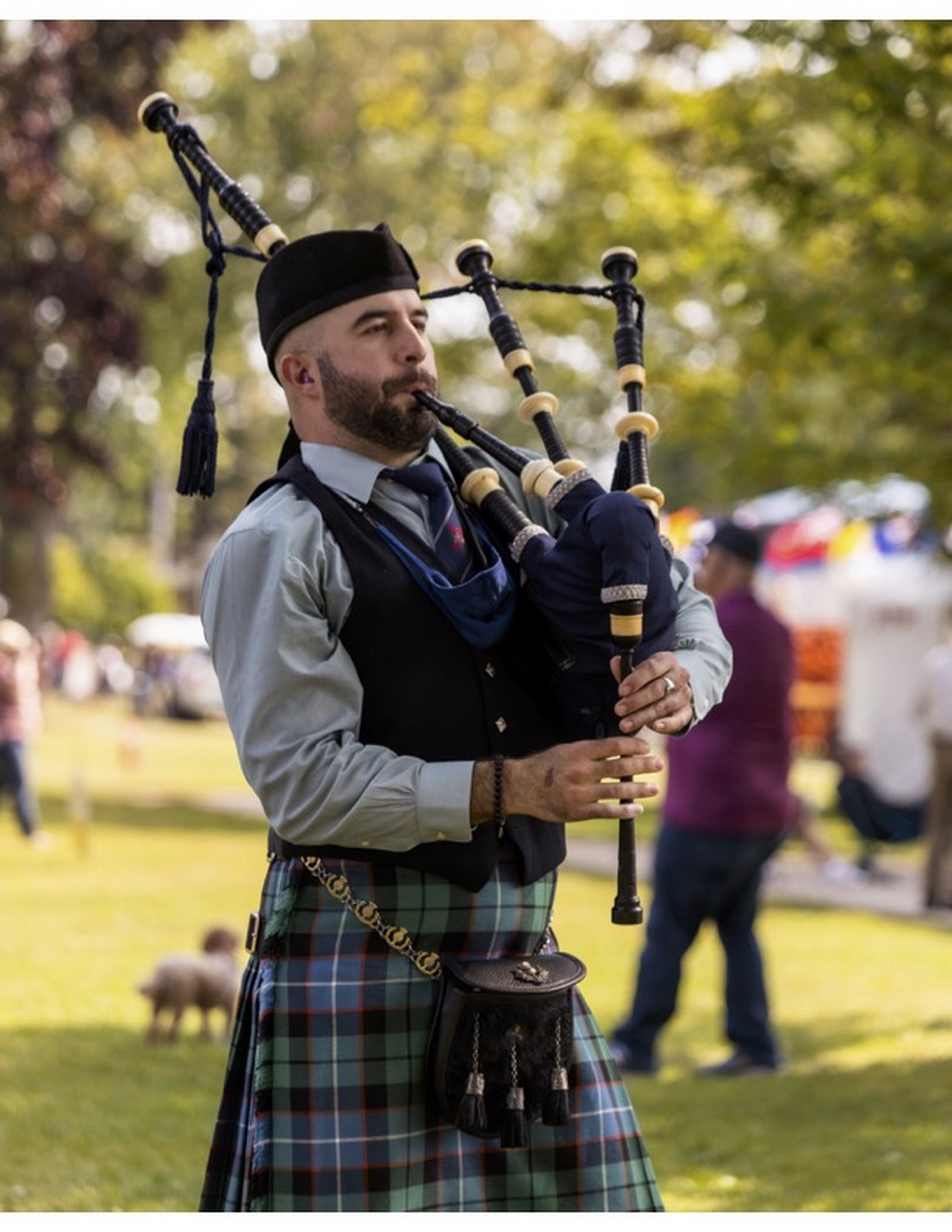 Charles-David Mitchell started learning the bagpipes at age 11 with the Black Watch, Royal Highland Regiment of Canada Cadet Corps based in Montréal, Quebec. He has played with several competitive bands such as the Glengarry Pipe Band, Rob Roy, Ryan Russell, 8 Wing Pipes & Drums and is a current member of the Ottawa Police Service Pipe Band. He currently takes instruction from Ross Brown since moving to Kingston in 2015.
Charles-David has been a frequent competitor in the Toronto and Ottawa Branch Indoor Knockout Contests held over the winter months. He won the 6/8 March/Hornpipe & Jig and MSR events numerous times. He was also awarded the Toronto Branch Knockout Finals Champion in 2018, 2019 & 2020.
Outside of the competitive world, Charles-David was invited to participate in a non-governmental project called Operation Husky 2013, which commemorated the 75th Anniversary of the first successful Canadian participation during WWII with the liberation of Sicily from German occupation. Later that summer, Charles-David was a member of the Glengarry Pipe Band, who placed 6th in Grade 4A at the Worlds on his moms 50th birthday!
In 2019, he took the opportunity to perform in the Royal Edinburgh Military Tattoo with The Piper's Trail, a band that allows civilian pipers the chance to perform at the annual event in Edinburgh.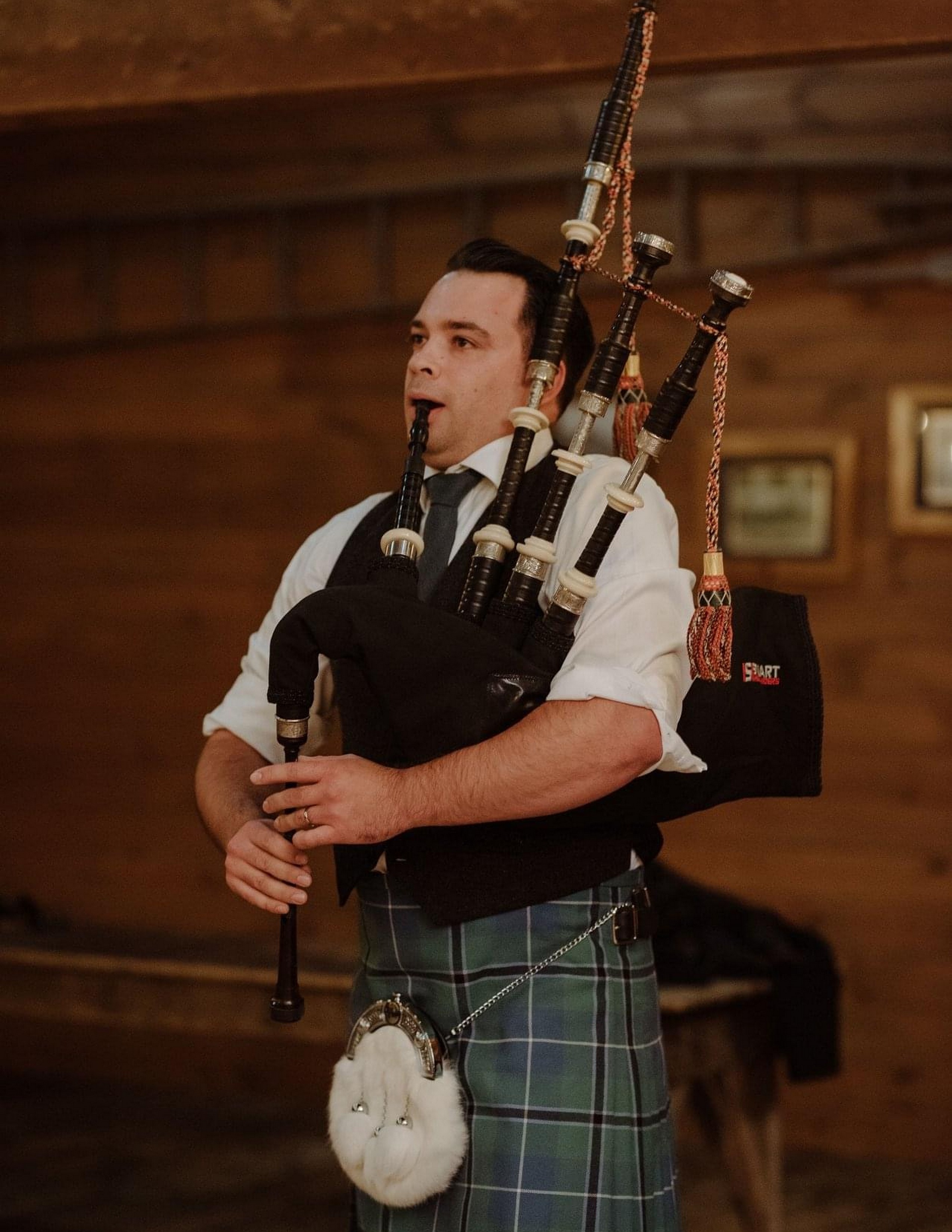 Andrew Prioli was born and raised in Hillsborough, NC. The son of a Scottish mother, Andrew was first properly introduced to the bagpipes at the Grandfather Mountain Highland Games in Linville, NC.
His parents, noting his interest in the instrument, contacted his first tutor - Bruce Wright of Durham, NC - and Andrew began taking lessons at the age of 8. From there, Andrew's piping journey took off. He competed regularly in the southeastern competitions and played with the NC State University Pipes and Drums before joining the Grandfather Mountain Highlanders. In 2007, Andrew began taking lessons with Ken McKeveny, who brought him into the City of Washington Pipe Band. After competing with CoW and in grade one solos, Andrew took a hiatus from competitive piping in 2009 as he earned a BFA in Furniture Design from the Rhode Island School of Design. From there he began a short, three-year stint living and working in New York City, but eventually moved back to Rhode Island, where he was able to resume piping and joined the grade two Stuart Highlanders Pipe Band in 2017.
With the emergence of virtual contests due to the pandemic, Andrew began focusing entirely on solo competitions and taking online lessons with Stuart Liddell. He currently lives in Cranston, RI, with his wife, Amelia, and is an avid bass fisherman.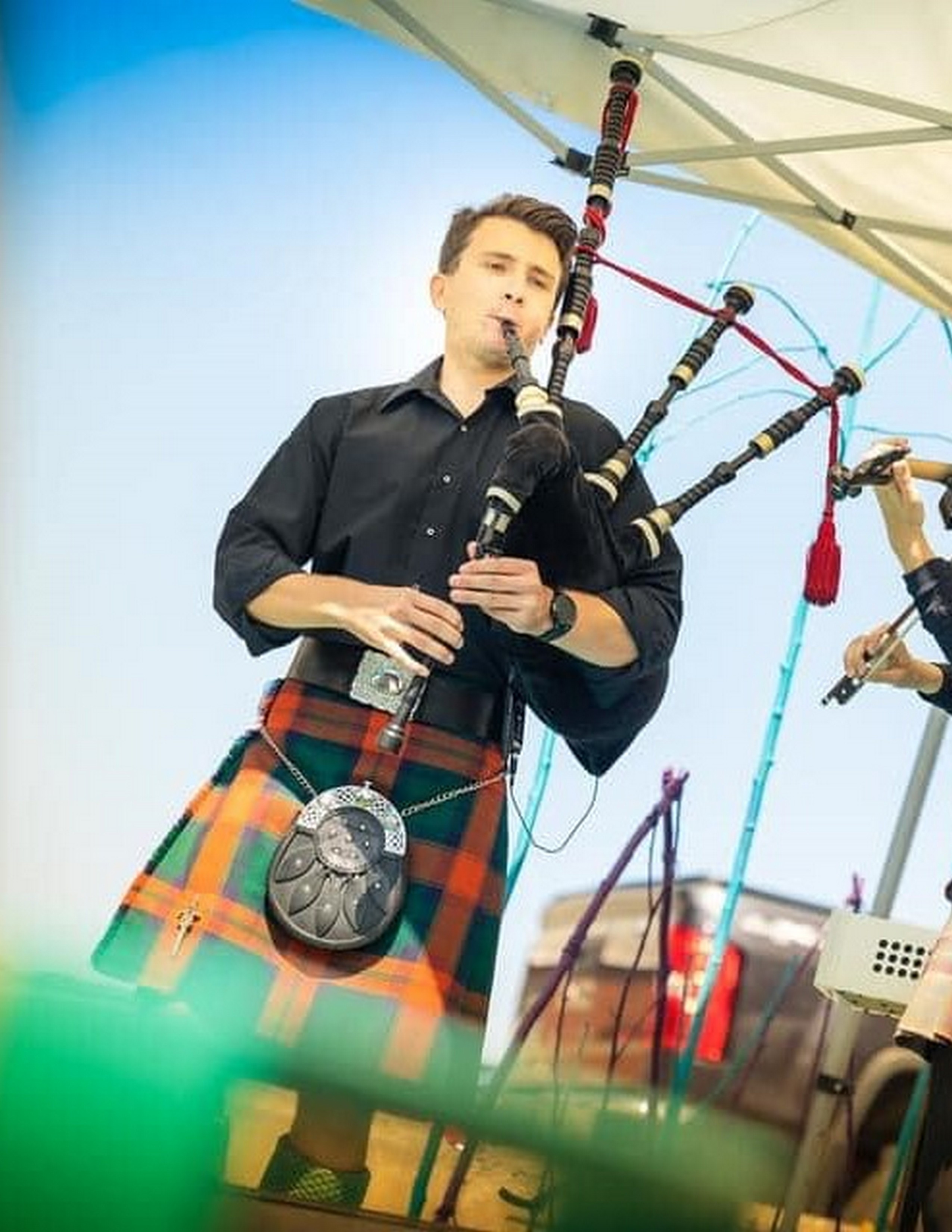 Caleb Thibodeau, originally from Windsor, Ontario, currently resides in Toronto and has been playing bagpipes since he was 15. He has been a member of the 78th Fraser Highlanders Pipe Band for the past 7 years, is a reservist with 48th Highlanders of Canada and also plays with The American Rogues on stage.
Caleb's piping highlights include prizes at the 2017 George Sheriff, winning the amateur prize at KC Winter Storm, and placing 8th at the 2018 World Pipe Band Championships playing personal compositions. Piping influences include Syd Girling and Bob Worrall. Outside of piping, Caleb is a professional in the financial sector and enjoys the outdoors, golfing, and reading.